Styling by LizPR Photographer: Bo Huang; Hair and Make-up: Ivy Lam
Source" Dagblad van het Noorden. Article by Job van Schaik
Monday, July 13, 2015
Ontario Piano Student wins CFMTA National Piano Competition
Newmarket area pianist Charissa Vandikas has won the Canadian Federation of Music Teachers (CFMTA) National Piano Competition held this past July 10, 2015 in Vancouver. http://cfmtavancouver2015.com/ Ms. Vandikas represented ORMTA as the sole representative of the Province at this distinguished National Piano Competition and was awarded the first place $5,000 scholarship, as well as a $1,000 scholarship for best performance of a work by Bach. Ms. Vandikas holds a Licentiate Diploma from the RCM with distinction and is a student of Markham, Ontario teacher Dr. Michael Esch. She is a graduate of Arts Unionville High School in Markham, and will attend the Bachelor of Music Degree program at the Glenn Gould School in the studio of legendary pianist John O'Connor in September 2015.
Labels: Canadian Federation of Music Teachers National Piano Competition, CFMTA, Charissa Vandikas
posted by Kiersten van Vliet at 11:29 AM
Photo by Bo Huang
Ingrid Taheri
Artistic & Executive Director at High Notes Avante Productions Inc.
Anxiety and Music
Mar 2, 2015
Charissa Vandikas is a soon to be Unionville High School Class of '15 graduate who is immersed in music.
Second oldest in a musical family from Newmarket, she somehow finds time to practice anywhere from two to six hours of piano every day, despite having to share the family's pianos with three brothers and a mother and father who both teach piano. She herself even teaches 8-10 students every week!
We caught up with Charissa between school and band rehearsal--she plays the trombone--on a cold but sunny afternoon in late February. She will perform at the second High Notes for Mental Health concert at Flato Markham Theatre on May 2.
"Anxiety is not pleasant and that is an understatement," says Charissa when asked how mental health has touched her. A couple of her friends have struggled with anxiety and she didn't know how to help at first but eventually could. "I think it is something that should be addressed more in school."
Although Charissa herself gets stage fright before performing, it is something she is learning to deal with. "I imagine that I am in my living room and have also been learning the Taubman technique which helps me relax." The fear of making a noticeable mistake and that everything will fall apart has lessened as Charissa has had more and more experience performing. But, "yes, I have felt like a complete failure and cried after performing, but participating in festivals and competitions have helped me move forward, to deal with my fears."
"It is encouraging that someone as famous as Vladimir Horowitz (one of the greatest pianist of all times) at times also doubted himself and his capabilities, but still made a name for himself. Perhaps it is healthy to be that humble so that you keep improving."
Charissa says music helps her with her personal mental health because "it is something familiar I can always go to if I feel overwhelmed. Music is healing. It allows me to express myself, to convey things that you don't get to express in daily life. It is an outlet."
"I can not imagine a life without music. I will definitely be doing something creative," she answers when asked if she would consider a different career than piano. "I also like writing which is another way to express yourself."
The 17-year-old, who won the Founders Award at the North York Music Festival last year as well as the Young Artist ORMTA competition, has already auditioned to the Eastman School and the Glenn Gould School of Music and has auditions with Juilliard and U of T in March. We are crossing our fingers for her and encourage you to come hear her on May 2, 2015 at the Flato Markham Theatre.
Amongst the stellar line-up performers are conductor and motivational speakerBoris Brott, (our next post will be about him) world-renowned opera super starRichard Margison and his daughter Lauren who writes her own songs, Canadian Air Farce veteran Luba Goy as host and Alex McLeod on viola and Canadian accordion champion Michael Bridge. Sixty members of the St Michael Choir School Choir will sing. In addition, the audience will be treated to spoken word poetry by mental illness survivor Julie Everson while Orlando Da Silva, President of the Ontario Bar Association, will talk about how to move forward after a diagnosis. Representatives from a number of mental health organizations will also be available to share information during intermission, which also offers up dessert, champagne and a silent auction.
For more information visit www.highnotes.ca. To order tickets call 905.304.SHOW.
Ingrid Taheri, Artistic and Executive Director, HIGH NOTES AVANTE 416.605.8915
YOUNG ARTISTS' SHOWCASE 2015
Don't miss VPAN's one-of-a-kind annual Young Artists' Showcase at Newmarket Theatre on February 8, 2015! This year's headliners include:

Justin James, Trumpet

Justin James, a native of Newmarket, is a trumpet player who gives both solo and accompanied performances. He has a wide repertoire, having played everything from Big Band jazz to punk rock in a variety of venues.

James Evans and Sarah Harwood, Actors

James Evans and Sarah Harwood are two members of the Pell-Mell Players who will perform a major scene in the title roles from Shakespeare's tragedy Romeo and Juliet. Not to be missed!

Charissa Vandikas, Piano

Charissa Vandikas, a native of Newmarket, began her musical studies at a very early age and enjoys an impressive background as a pianist. Already a prize-winning performer, she can look forward to a successful career in music.

John-Michael Scapin, Tenor

John-Michael Scapin is a Montreal native who has enjoyed a lifelong interest in the Arts. A student of voice, piano, and acting, he has many successful stage performances to his credit. He has furthermore been praised for his "perfectly pitched clarion voice."
A very attractive pair of very different concerts later this week: teenage piano phenom, and Euro-famous accordionist, Thursday and Saturday.
Charissa VandIkas, Piano
Photo by Janice Lin
Thursday, Nov 13, 8:00 (Music Room)
This young pianist has been praised in very high terms to us by people who know about pianists. She brings a startlingly ambitious program:
Scarlatti Sonatas - A-major and a-minor
Beethoven - Sonata no. 28 opus 101 in A
Liszt - Tarantella
McIntyre - Bobcats and Butterflies
Brahms - Variations and Fugue on a Theme by Handel

- That's a program to put any pianist through his or her paces!
She was recently awarded the 2014 North York Music Festival Founder's Award, which included a scholarship to attend the Peter de Grote Summer Academy in the Netherlands this past July. While there, she was awarded the Haydn Jeugd Strickorkest Soloist Award, and has been invited back to Europe to perform with the orchestra in 2015. Representing the Markham-Stouffville Branch in the 2014 ORMTA Young Artist Competition, she won the first place award that will send her on a concert tour to several Ontario cities this fall. [Our concert is not officially part of that tour, but it might as well be, as she's not otherwise performing hereabouts.]

With such a great program and such high recommendations and awards, we hope lots of you will turn out to witness what may be one of the real "comers" among young Canadian musicians.

Just $15 (sr $10; st $8) ... you can't afford not to come!

At door and usual sources (WordsWorth, U of W, Music Plus, and TicketScene.)



Our mailing address is:
Kitchener-Waterloo Chamber Music Society
57 Young St W, Waterloo, ON, Canada
Waterloo, On N2L 2Z4
Canada
A post on the Toronto Masque Theatre blog!
Charissa Vandikas, photo by Janice Lin
I want to introduce you to a remarkable young pianist who studies in the Arts Unionville program at Unionville High School. Her name is Charissa Vandikas and she is this year's winner of the Ontario Registered Music Teachers' Association Young Artist Award. She is currently on tour, which takes her – over the course of a month and a half – all across Ontario, with stops in North Bay, Sarnia, Kingston, Ottawa, Newmarket and elsewhere. This Sunday, October 19, at 2:30 pm, Charissa will be giving a recital in Toronto at Chambers House, the Canadian Music Centre. Her program includes works by Beethoven, Brahms, Scarlatti, Liszt and Canadian David McIntyre. I recently sent Charissa a series of questions about her young career, and she responded with characteristic maturity and wit. Here is part of that exchange: 1) Describe your relationship with the piano and piano-playing in general: I've played piano since before I can remember. Both my parents teach it, and all three of my brothers play it. I'm constantly surrounded by piano music, which is part of what makes it such a significant part of my life. I feel like I've been hypnotized to the point that I feel terribly guilty (enough that it keeps me up at night) when I skip even a single day of practising. It's a routine part of my life, but it rarely gets boring or tedious–yes, even when doing slow practice. 2) What has been a highlight for you in this whole ORMTA experience? Can I say all of it? It's such a great opportunity that ORMTA is offering, an opportunity that does not come around often enough. As the featured Young Artist, I get to tour Ontario playing in some great venues (some large, some small). I like to think of this tour as the epitome of my practising. I feel that performing helps me fulfil my role as a musician–playing not just for myself, but for others. It helps that the "others" are a supportive and appreciative audience of teachers, students, friends and family. 3) What role has the Arts Unionville piano program at UHS played in your success? I think the most important thing that the UHS piano program has done for me is introduce me to the words "collaborative pianist". Before I came to UHS, my experience as an accompanist was very limited. After my first year of AU Music, I felt like a seasoned professional! Not to say that I still don't have so much to learn (which I do, of course), but I was given so many chances to accompany strings, winds and vocalists that a distinct improvement was only natural. The program presents the pianists with a huge amount of opportunities to hone our skills as collaborators, not just soloists (as I think most of us who first come into the program are primarily). It's taught me organization and time management, and has helped me learn music at a faster rate. Musically, I'm much more aware of the different lines; I've learned to listen and react to what I'm hearing–a skill that is invaluable to any musician, soloist or otherwise. 4) What are your plans next year? I plan to study piano performance in post-secondary school. Music is such an imperative part of my life that it's hard to imagine not including it in my future. It's what I love doing, and I'm willing to take time to see how far I can go with it. If that means bigger competitions, anxiety and student debt, then so be it! 5) Please add anything else!! I'm so honoured to be given this opportunity. I have the prospect of stretching my boundaries in terms of focus, endurance, poise, and much more. It's a mammoth learning experience that I'm impossibly grateful for. ________________________ As you can read, Charissa is a poised and determined young artist and it would be well worth hearing her. For more details on the ORMTA tour, visit http://www.ormta.org/events/young-artist-tour
http://torontomasqueblog.wordpress.com/
TORONTOMASQUEBLOG.WORDPRESS.COM
Aug 13, 2014
Newmarket pianist earns spot on provincial musical tour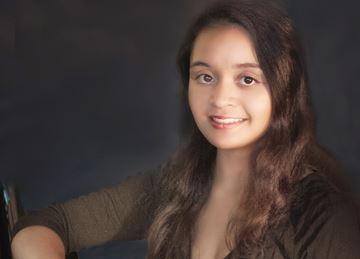 On tour
Submitted Photo by Janice Lin
Newmarket Era
By Chris Simon
Newmarket's Charissa Vandikas comes from a family of pianists and it shows. The 17-year-old will be part of the Ontario Registered Music Teachers Association's Young Artist Provincial Tour this October. Last month, she attended the Peter de Grote Summer Academy in The Netherlands.
Charissa Vandikas will tickle the ivory across Ontario. The 17-year-old Newmarket resident earned a spot on the 2014 Ontario Registered Music Teachers Association Young Artist Provincial Concert Tour. She will represent the association's Markham-Stouffville chapter on the tour, which takes place later this year. "(The tour) is a very big honour," she said. "My whole family plays piano, so it was just something I got into. There was a time when, like all kids, I wanted to do my own thing. But my parents convinced me to stick with it. It's really gone great since then." Vandikas took her first music lesson at the age of two. She began playing the piano regularly about two years later and won her first national piano competition award when she was six. She has been the recipient of several awards and scholarships from various local, provincial and national competitions including the Ontario Music Festivals Association provincial competitions and the Canadian Music Competition national finals. She received the 2014 North York Music Festival Founder's Award, which included a scholarship to attend the Peter de Grote Summer Academy in The Netherlands last month. Vandikas has also earned an upcoming concerto tour of The Netherlands, with the European country's youth orchestra.